Posted by Netty in Netherlands World Cup Squad, Overview Netherlands Versus Brazil, World Cup Brazil Squad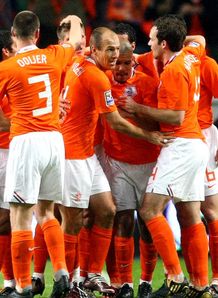 Netherlands World Cup Squad
World Cup Brazil Squad
Netherlands drove smoothly in their efforts towards the World Cup final, but on July 2, 2010 At 16:00 local time, they will face Brazil's thick walls and look so very tough ambition lifted the cup champions for the sixth time.
The Netherlands would also have been very crave that cup but coach Bert van Marwijk faces a dilemma in applying the tactics in the quarter-final match in Port Elizabeth against a team that already chasten all their opponents without mercy, though resisted in any way.
Coach Dunga, who had been captain when Brazil beat the Netherlands in the World Cup in 1994 and 1998, say their opponents are technically very strong, so he had to prepare the team better.
Elano will miss the game Friday because of a bruise on his ankle when Brazil against Ivory Coast and Dani Alvez may occupy the position, as he did when against Chile.
Felipe Melo suffered an ankle injury and his replacement Ramires being punished for getting two yellow cards, so it seems Josue will go down in the early game against the Netherlands.
The Dutch won the four previous games and Arjen Robben has scored a goal since he returned to the show after a previous injury, which involved bringing his team a 2-1 victory over Slovakia.
Van Marwijk believes his team can control their game in the group stage and hope to improve the rhythm and speed against Brazil.