Posted by Netty in Milan Jovanović, Serbia Team Worldcup 2010, The Panzer subdued against the Serbia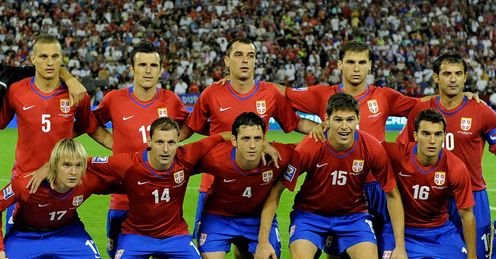 Serbia Team Worldcup 2010
Serbian striker Milan Jovanović break through the German goalkeeper
Germany 0-1 defeat of Serbia in a way is actually not so surprising. Because the match between Germany against Serbia, later Der Panzer fragile walls must be met if the opponents of the Balkan country at the World Cup.
Milan Jovanovic scored in the 38th minute to diminish the hope of Germany won a second victory in Group D. Impressive performances and captivating as the first match against Australia at even though Germany did not appear even gone so bad in the match in Nelson Mandela Bay Stadium.
But if you view the record-German meeting with the teams seemed reasonable fractions of Yugoslavia if the Serbian who was nicknamed 'White Eagle' was able to win the game. In the last three World Cup duel with the Balkan countries, the German goalkeeper had conceded seven goals.
So goals are nested Jovanovic goalkeeper Manuel Neuer is on the to-eight in the last four meetings with representatives of the Balkans. Looks fragile rather see Germany had always been inhabited goalkeeper and defender-defender of quality?
Not only was the defeat of the Serbs who tarnished the good record has survived for 24 years where Germany had never lost in the first round or group. It was still dressed in Western Germany, Danish managed to win with a score of 2-0.