Posted by Netty in Football South Africa Team, France World Cup Squad, Priview France Versus South Africa
France World Cup Squad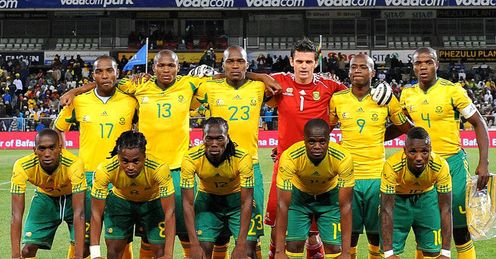 Football South Africa Team
No cover possible if efforts are not France or South Africa will yield nothing to the final match of group A if Versus Uruguay Mexico finally ended in a draw. But on the second guarantee the team would still appear adamant over the name of honor and dignity.
Not accusing the two countries in the region that America will play your eyes or do "bad deal". But if La Celeste acceptable or even El Tri little save energy for the next trip, yet both are relatively safe position.
Back to the South African counter-France, this party is worth more than three points. This game can also become a means of maintaining honor for the Bafana-bafana or any of Les Bleus.
Both middle of a troubled team. South Africa was highlighted prominently post the defeat of Uruguay 0-3 in previous matches. Carlos Alberto Parreira's men threatened to host the first that failed to escape from the World Cup group phase.
French? Worse. Internal conflict sparked chaos in the team. The main striker Nicolas Anelka discharged, striking players to practice, coach Raymond Domenech has lost respect, and concern and criticism and condemnation coming from the State Mode.
Although his country would kill each other, but Zizou and Radebe also praised each other's potential opponent.
The match will take place this time with a very high tempo and will drain the emotion of each player. Because whoever loses will immediately lift the suitcase back to his country.