Posted by Netty in Priview Ghana versus Germany, World Cup Germany Team, World Cup Ghana Team
World Cup Germany Team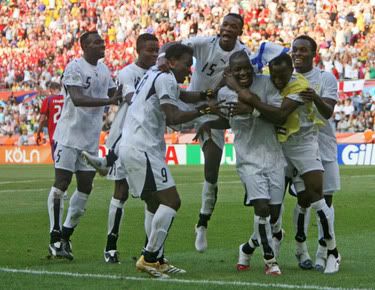 World Cup Ghana Team
Last in the group D match between Ghana vs. Germany took place at 20:30 local time in Johannesburg - Soccer City Stadium
Germany is known as a specialist team of big tournaments. One note about them is not never escaped the group stage at the World Cup. How this time?
The safest scenario for Germany qualifying for the 16th round of Group D was the defeat of Ghana at their meeting in Johannesburg. This is a huge challenge for troops Joachim Loew, including records related to the above.
Of the 16 World Cup they were following before, the worst result was in the World Cup Germany 1938, when they lost the rematch against Switzerland (2-4) in the first round, when the tournament is not familiar with the group system, but the direct knockout.
The rest, Der Panzer always penetrate at least the quarterfinals round, except in 1978 (only up to the second round). Germany is a champion three times, runner-up three times, ranking third three times, and rank only once.
Here are some other records related to the second meeting the team:
- Ghana is the only African team to qualify for the last 16 of the 2006 World Cup. Only Nigeria had two consecutive entry in the knockout round of the World Cup, in 1994 and 1998.
- Of the six games in the World Cup, Ghana get four penalty kicks, and scored three times from there.
- Records unbeaten in 16 matches in Germany's group stage, since 1986, when they bent over Serbia 0-1. That was also the first time that Der Panzer no scoring in the game since losing to BAAK group in Mexico in 1986.
- Germany met African teams in five World Cup. They lost only once, namely from Algeria in 1982 with the score 1-2.
- The last time Germany lost two times in a row at the World Cup is among the Duna Cup 1978 and 1982.
- Germany always win the match in round three of the four groups from the World Cup final.
- The two countries meet only once, namely in Bochum on 14 April 1993. Germany hosts won 6-1. Disadvantaged first at the end of the first round, second-half goals by Germany melesakkan six Ulf Kirsten, Stefan Effenberg (2), Juergen Klinsmann (2) and Andy Moeller.
- Ghana defender John Mensah is expected back down with Isaac Vorsah. Sulley Muntari, who only played in the second round in the first two games, it looks like this time will be the starter, replacing Kwadwo Asamoah.
- With the suspension of Miroslav Klose, Germany will likely put Cacau as the spearhead. He scored one goal during his team's 4-0 win over Australia.