Posted by Netty in Brazil kick Chile, Riview Brazil Versus Chile
Brazil kick Chile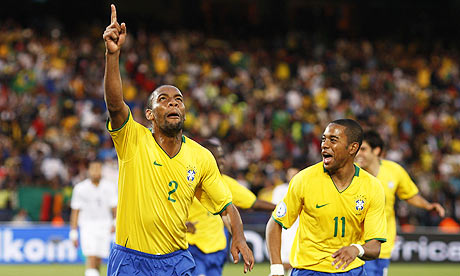 Brazil World Cup 2010 Team Celebrate Winning
Schema creation goals by Luis Fabiano
Brazil showed its class as the most favored team to win the World Cup title. Kala serve the challenges of Chile, in Round 16 Large, Selecao able to demonstrate a solid game, and the neighbor was able melibas landslide victory with the score 3-0.
In this game, scored Brazil's Juan and Luis Fabiano scored in the first round. Meanwhile, the third goal diceploskan by Robinho in the second round.
In these matches, Chile could begin with a very good game. They were able to show the tactical game and could push Brazil's defense. However, this condition will not last long. Brazil is getting hot to show the ability of the original. As a result two times Chile goalkeeper Claudio Bravo should do a rescue from the advancing goalkeeper Fabiano and Gilberto Silva.
34th minute, goalkeeper Chile eventually collapse. Juan, utilize a removable Maicon corner kick, was able to remove the header that can not be anticipated Bravo.